AWARDS "AGRIFOOD CLUB GOLOSARIO VINITALY" – VERONA 07/11 APRIL 2011
---
It is with pride and great pleasure that we inform you that, during the last edition of "Vinitaly" in Verona, our company has been awarded the
"AGRIFOOD CLUB GOLOSARIO" AWARD for our SPIRITS and LIQUEURS.
The prize, awarded to our
WALNUT LIQUEUR WITH MODENA BALSAMIC VINEGAR
was created together with journalists Paolo Massobrio and Marco Gatti. It is an acknowledgement of the excellence of Italian food and wine, the result of the work of companies that make Italian cuisine unique.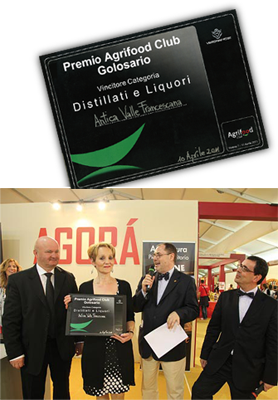 ---
AWARDS "L'UMBRIA CHE ECCELLE" – TODI 16 MARCH 2016
---
"Teatro Comunale di Todi"
16 Marzo 2016